Over 40+ years of horse racing data in our databases
Updated data / statistics
25K+ HongKong Races,
13K+ Horses,
315K+ records
A few things we're great at
Feeding you the most complete and reliable horse racing data for Hong Kong racecourses from
1979 – 2021 seasons
Full data for single season
Results + Horses + Races + Trainers & Jockeys stats

Sectional times table

Seasons from 2009 – 2020
Sha Tin and Happy Valley courses
Full data for 12 years seasons
Results + horses + Races + Trainers & Jockeys stats

Sectional times table

Seasons 2008/2009 to 2019/2020
Sha Tin and Happy Valley courses

Complete data package
Results + horses + Races + trainers & Jockeys stats

Sectional times 2008 – 2021 (up to date)
All Seasons 1979 – 2021 (up to date)
Sha Tin and Happy Valley courses
+WEEKLY UPDATE ON CURRENT SEASON

The products are available for direct download after purchase in many formats on the user account area after register and login
Hong Kong horse racing data feed integration. Most complete data between 1979-2021 seasons
Over 25,000 races
Including race type, going, surface, prize and EW
Over 315,000 results
Sectional postitions on races
Win odds and place odds
Sectional times on races
Finish Time
Over 13,000 horses
Including Age, Owner and Country origin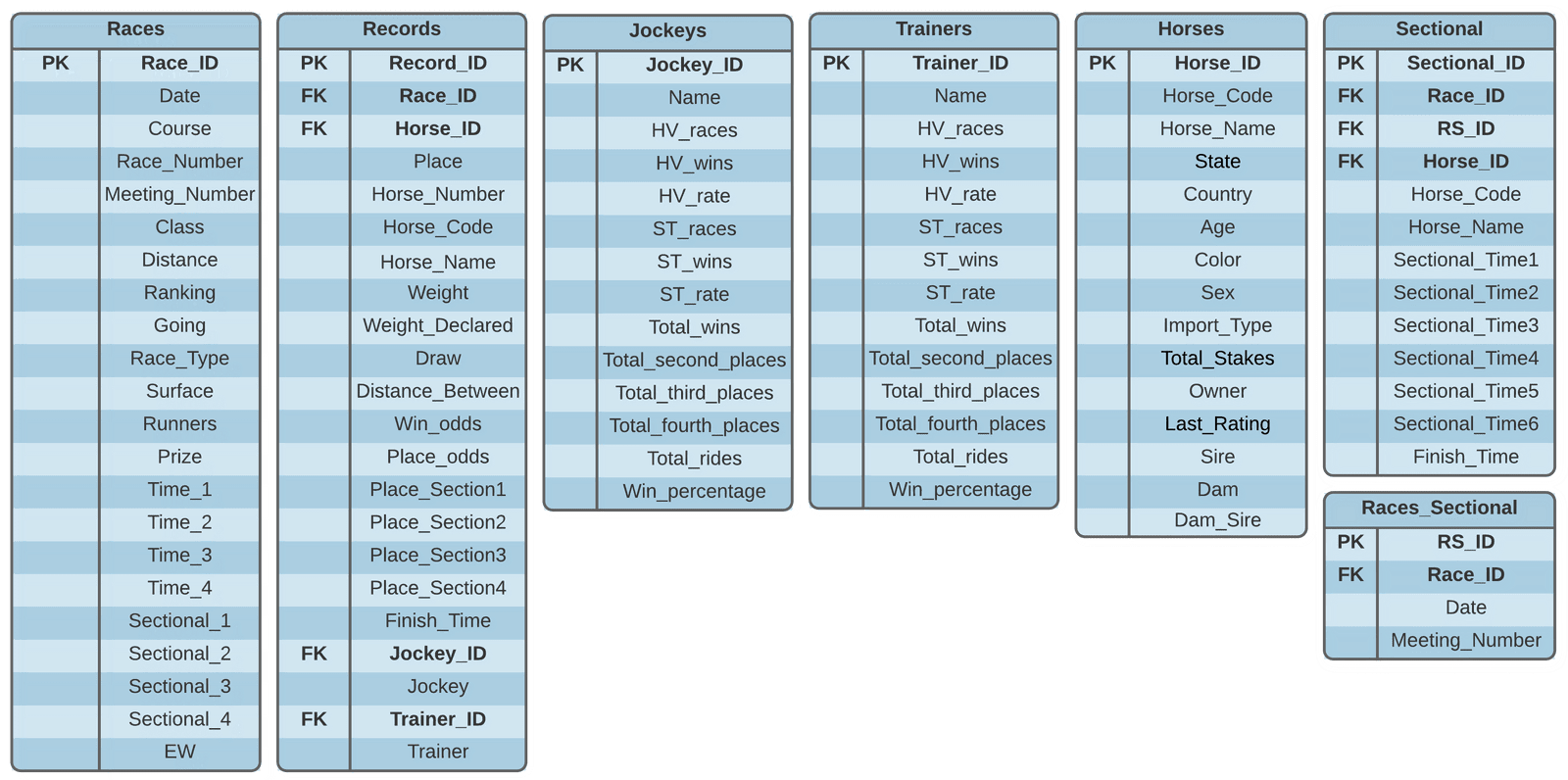 Our data is based on a relational database structure schema. Integrations available for any purpose
CSV – SQL – HTML – JSON – XML – TXT
Over 315,000 race results
Over 13,000 horse records
Over 25,000 races
Sectional times on races since 2008
First race, origin and import type
EW, Place, Win odds, Place odds and
finish time
Create your own horse system using a statistical model
The minimum amount of data required for proper statistical model development and test samples is in the range of 500 to 1000 races.
It is important to define the factors and as much information as possible to extract from the data in each of the relevant system areas
You don't need to have specific handicaping experience to build a horse system, as everything you need to know can be learned from the data
The same data used in the development of the statistical model must also be available for input in real time long enough before the start of each race
Keep your database up to date with high availabilty with our weekly updates
Get in touch for more information
Latest news from our blog
We've put together a decimal odds to fractional odds conversion table of some of the most commonly seen odds in racing so that you can easily see the conversion. 1.01 – 1/1002.52 – 6/451.00 – 50/11.02 – 1/502.54 – 6/455.00 – 54/11.03 – 1/332.56 – 8/560.00 […]
What makes machine learning a great element for beating public betting odds on horse racing.
Hong Kong Horse Racing Tutorials Hong Kong Races are one of the most important events on the planet of Horse Racing. Usually, people like to try their luck betting on horses due to the great odds that exist in this market and possible profit such as […]
write us or contact us on our social media
Join us!
It will only take a minute